Iron in your drinking water may not be harmful, but it is definitely a nuisance for some Maryland residents. Here at Carroll Water, our clients often complain of metallic tasting water, staining/discoloration in sinks, toilets, and showers, as well as corrosion to plumbing in their homes and businesses. The reason we hear from so many residents is because the geology in the state of Maryland contains higher levels of iron in the soil and in the bedrock. These two sub-surfaces also produce two very different types of iron at a molecular level – ferrous and ferric – and therefore impact residential water quality differently.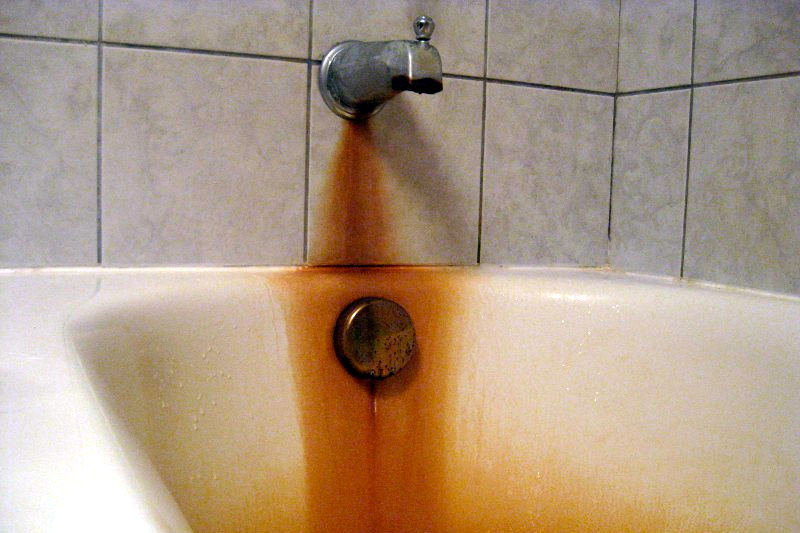 What Are Maryland Guidelines for Iron Levels?
Both ferrous and ferric forms of iron are considered a secondary or "aesthetic" nuisance contaminant by the EPA, meaning the limit for iron in water is based on taste, odor, and appearance rather than any detrimental health effect. The EPA guideline typically recommends any level above 0.3 milligrams per liter (mg/L) of water be remediated. While there are no federal regulations on removing iron, The Maryland Department of the Environment (MDE) regulates the levels of iron in drinking water based on the federal maximum contaminant level (MCL) of 0.30 milligrams per liter (mg/L).
Ferrous Iron is Common to the Coastal Plains
The coastal plain areas along the Chesapeake Bay (Anne Arundel, Calvert, Charles, and St Mary's Counties) have loosely compacted soil so that when rainwater passes through this soil mixture, it dissolves many minerals like calcium, iron, and magnesium. One of the most soluble of these elements is ferrous iron. Rainwater carries the iron down through the ground surface where it makes its way into the aquifers that supply residential and commercial water wells. Since ferrous iron is a much smaller particulate mineral it doesn't have a color, so ferrous water will appear clear directly out of the faucet. However, you could fill a glass of water, and over a short time, as the air oxidizes it, the water will show a brown or reddish color.
Ferric Iron is Found In Bedrock
Areas like Carroll, Howard, Frederick, and Baltimore Counties in Maryland have pockets of bedrock that contain high levels of iron. As rainwater falls to the earth, it comes into contact with the soil, seeps into the ground, and eventually makes its way down to bedrock. Water is nature's solvent and is naturally corrosive; it wants to be equal with whatever it comes into contact with. Due to the fact that rainwater is already low in pH (acidic), it is more corrosive and therefore can cause softer rock, like iron, to leach deposits of iron into both residential and commercial water wells. The iron particulates in this case are less soluble, meaning they haven't dissolved fully in the water. They have oxidized entirely though, so that is why they will cause water from the faucet to appear cloudy orange or red.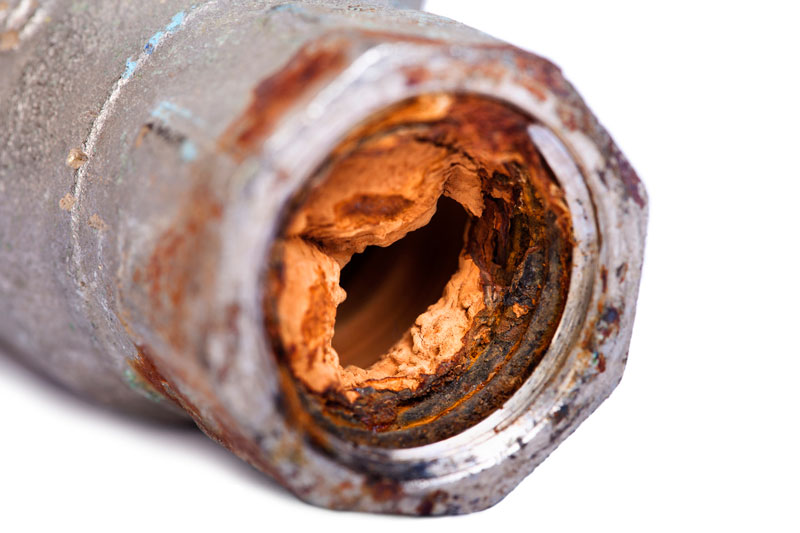 What Can You Do About Eliminating Iron?
Typically municipal water utilities will ensure that iron levels remain below the Maryland regulated level. One common way is to use a water treatment plant. At these plants, the water is treated with chemicals that oxidize the iron and cause it to form a solid particle. This solid particle can then be removed from the water by sedimentation or filtration before it is sent to residences and businesses.
If you're on a residential well or you believe your public water supply may still contain some iron, there are steps you can take to remediate the iron fully from your home water supply.
Steps You Can Take for Whole-home Iron Elimination:
1. Identify Trusted Partner
Find a local Maryland water treatment partner like Carroll Water, who will work closely with you to identify your home water issues. You'll want to work with an experienced and full-service water treatment company that can offer you the resources and "know-how" to feel confident in your remediation.
2. Test Water
When your water consultant comes to your home, you will discuss with them your concerns and describe the nuisances you are experiencing like metallic taste, sink and shower staining, or damage to pipes or appliances that rely on water. They will perform a water test at your home and will be able to share those results with you immediately.
3. Obtain Remediation Plan
Once the type and level of iron are determined, the consultant will create a remediation plan for your home. They will discuss all the options available for your specific needs and once you agree to a plan and payment terms, the installation usually occurs within a matter of days.
4. Solution Installed
Once the team has installed the appropriate equipment specified in your water treatment plan, they can perform another water test to prove that your newly installed system is eliminating 100% of the iron from your water.
If you are concerned about the levels of iron in your drinking water at your home or business, contact us today so we can schedule your free water test.  There are a number of ways to remove iron from drinking water with water filtration and softeners, and your Carroll Waters consultant will work with you to select the best plan based on your test results.
Carroll Water is the exclusive authorized EcoWater dealer in Maryland.