When you purchase the EcoWater 3700 Softener and Refiner System, it comes with HydroLinkPlus® Wi-Fi and Smartphone App Monitoring to enable Wi-Fi technology that sends continuous and excessive water use, system error, low salt, and service reminder alerts. The alerts also include a "water-to-drain" sensing message that notifies you when an excessive amount of water is going to drain.
In this video, Carroll Water senior tech Joe Fiorani walks you through how to set up wifi monitoring. He also gives his suggestions for what alerts to turn on and off, what units and material types he suggests, and more. 
Transcript
I'm Joe Fiorani, I work with Carroll Water, and I'm one of the Senior Techs here.
Today I'm going to show you how to setup your Wi-Fi on your EcoWater 3700 Softener or Refiner System.
To start, you're going to want to hit the center button. The center button is going to be your main menu.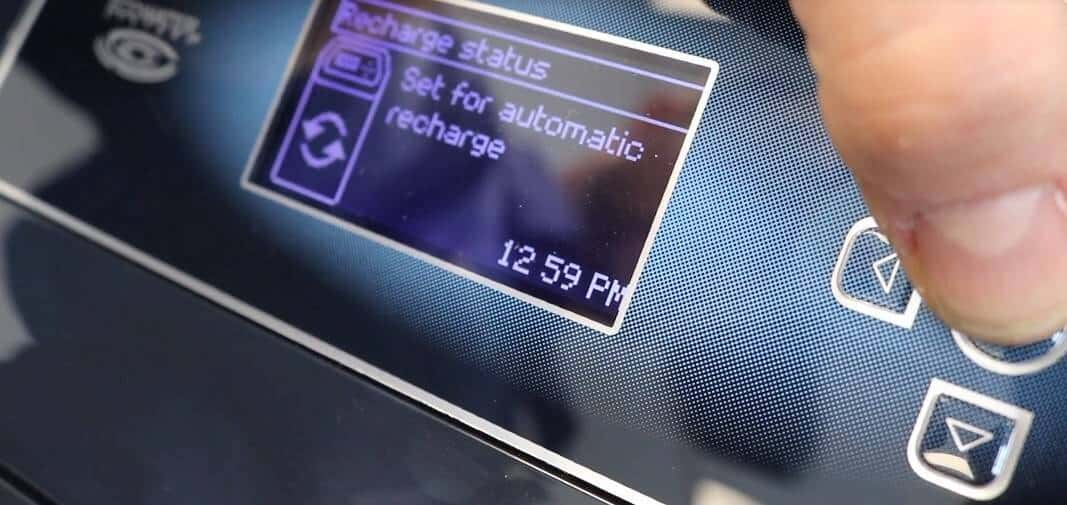 You're going to then scroll down all the way to the bottom to Advanced Settings. Once you're in Advanced Settings, you're going to want to scroll down until you find Wireless Setup.
Once you're in Wireless Setup, you're going to have two options. One is going to be a WPS button, which is found on your router. The next option is going to be your Browser Mode. Browser Mode is what we're going to use today.
From there you're going to want to log on to your account using your EcoWater App on your smartphone or you can get on your computer and type in wifi.ecowater.com.
Once you're logged into your account, you're going to hit Add System. Once you are in Add System, it will say "Place your device in browser mode or connect mode and see instruction manual." Basically, this goes through everything that you need to know. Once you're in there, you're going to hit Settings and get into your Wi-Fi Settings, go all the way up, and find your Wi-Fi. Once you're Wi-Fi, you'll see something called H2O and then a couple of numbers behind it. You're going to connect to that.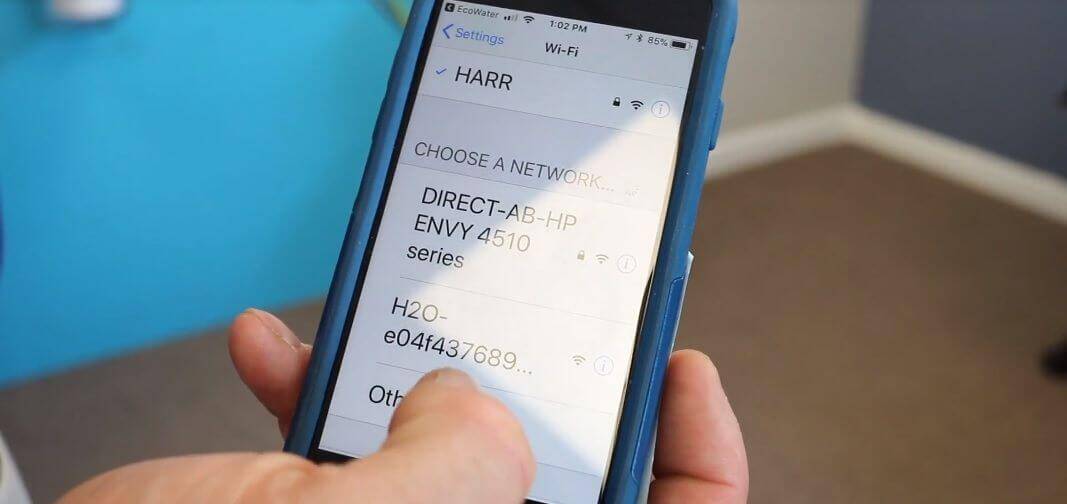 It should redirect you. You're going to open your app. Once you're in here, it's going to say "Select the local Wi-Fi", which is your Wi-Fi. Once you've selected the WI-FI, you're going to go down to the password. After entering it, you're going to hit "Next". Sometimes this process can take a couple of minutes.
At this point you're going to look on your softener and it's going to give you a keycode.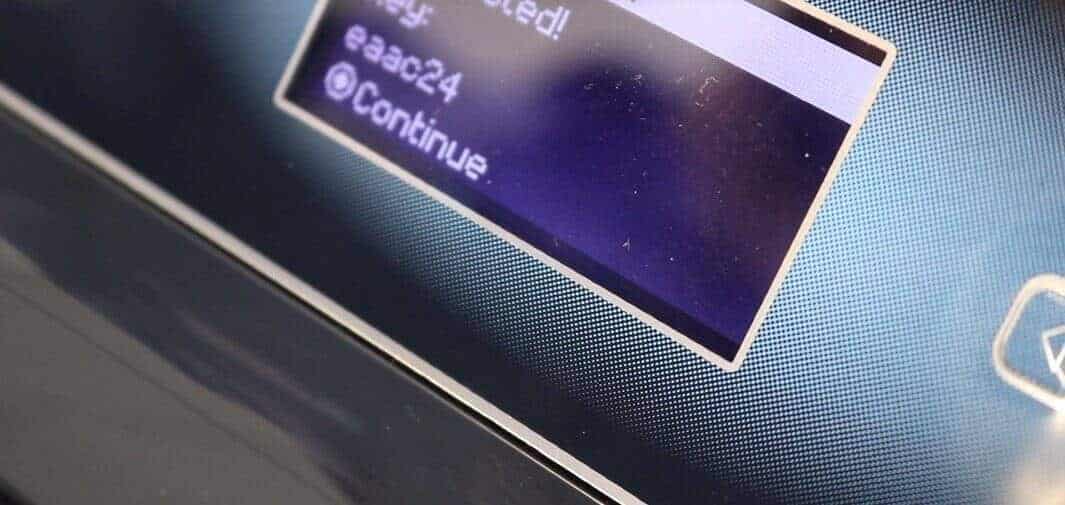 Once you're at this menu, you're going to notice this is where you enter the keycode to continue, so you're simply going to look at the keycode on your softener, enter the same keycode, hit "Next", and at that point it's going to register your device.
Once you're done registering your device, you're going to set a nickname. Typically, I just put "Softener". Then, as you go down, set your System Units in "English", Hardness Units in "Grains per Gallon", and then you manually adjust your hardness depending on what's going into your house.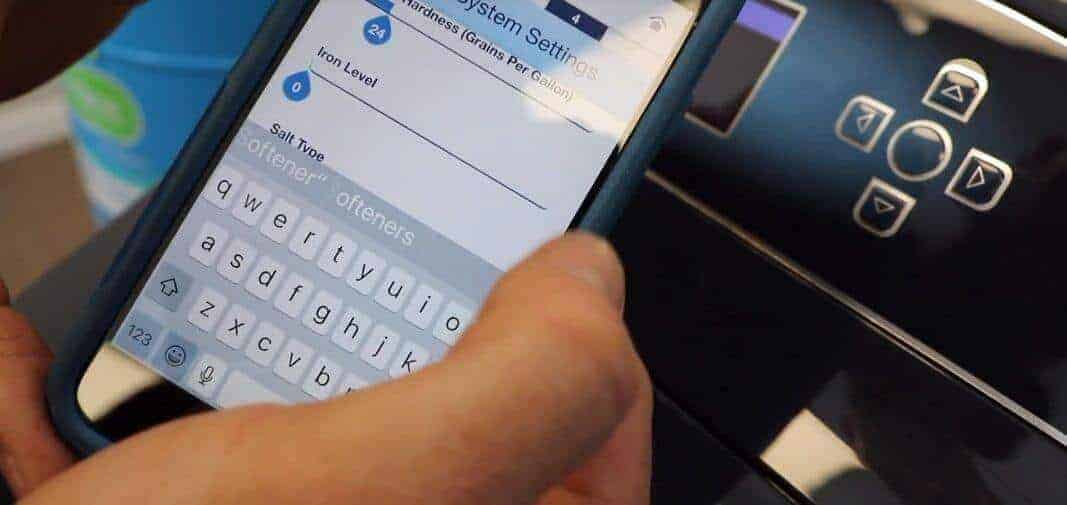 So, let's say this [Hardness] is a "24". For Iron I will just make up a number and say "1.2".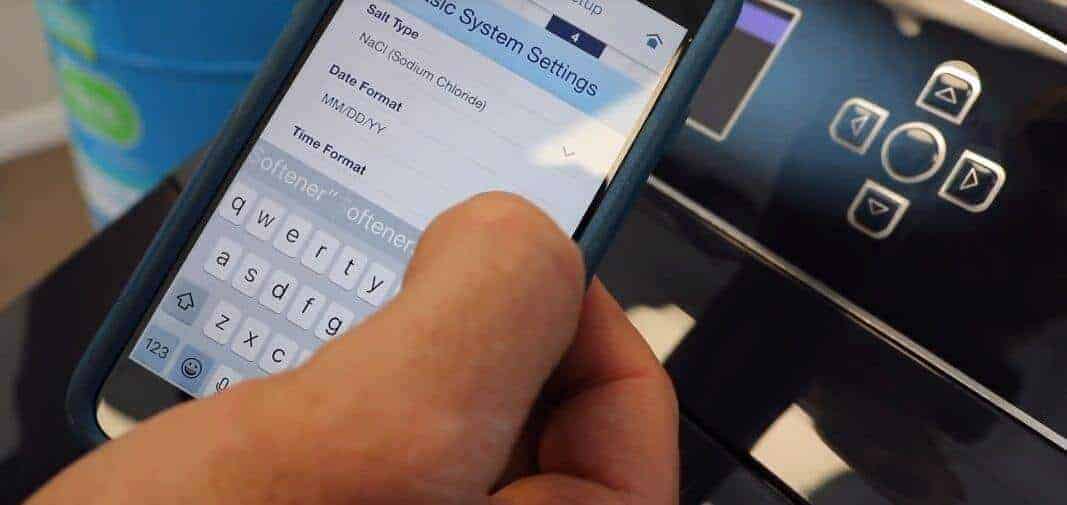 For Salt Types, usually this is going to be "Sodium" unless you use potassium. The Date Format is totally up to you. The Time Format is up to you, as well. Typical Unit Recharge is at 2 am.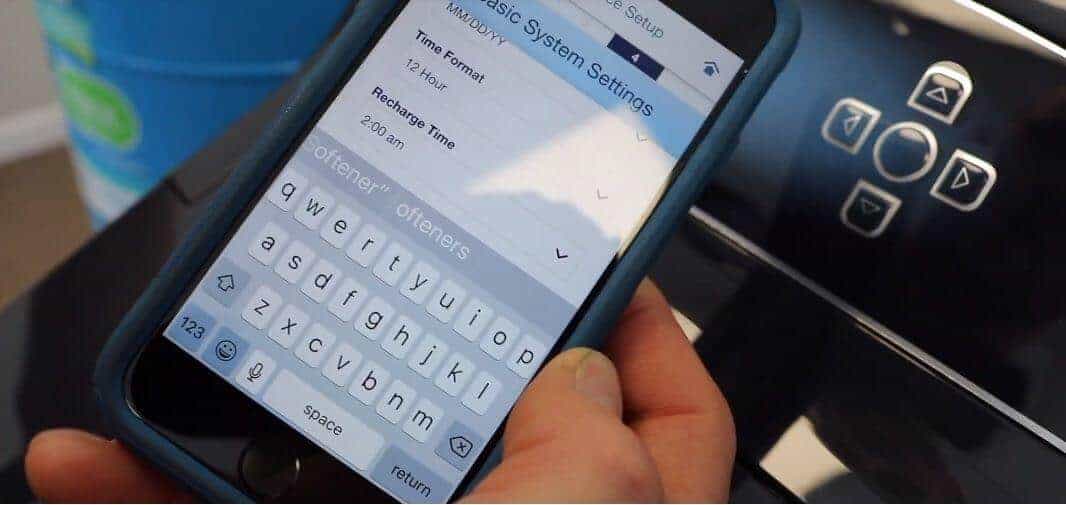 At this point, you're going to put your email address in and a cell phone number. These are what you will get your alerts sent to in case there is a problem with the unit.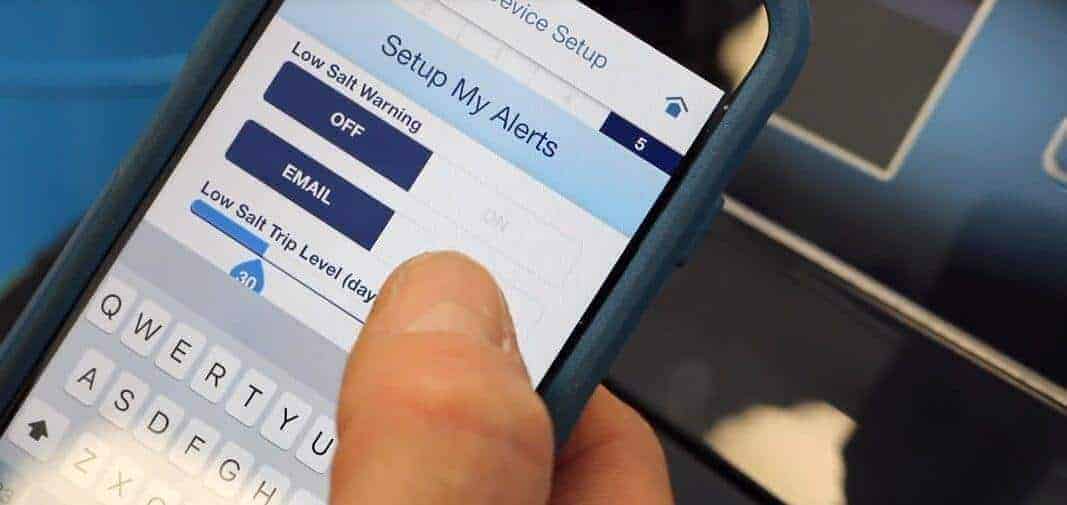 The first one you run into is a Low Salt Warning. Typically, I tell customers to turn that one on. You can choose between "Email" or "Text". What I usually tell customers is to set it at about 30 days – it's really just your preference, but I figure 30 days out gives you plenty of time to go ahead and get more salt.
Flow Monitor – I usually turn that on. You can hit "Text" for that too.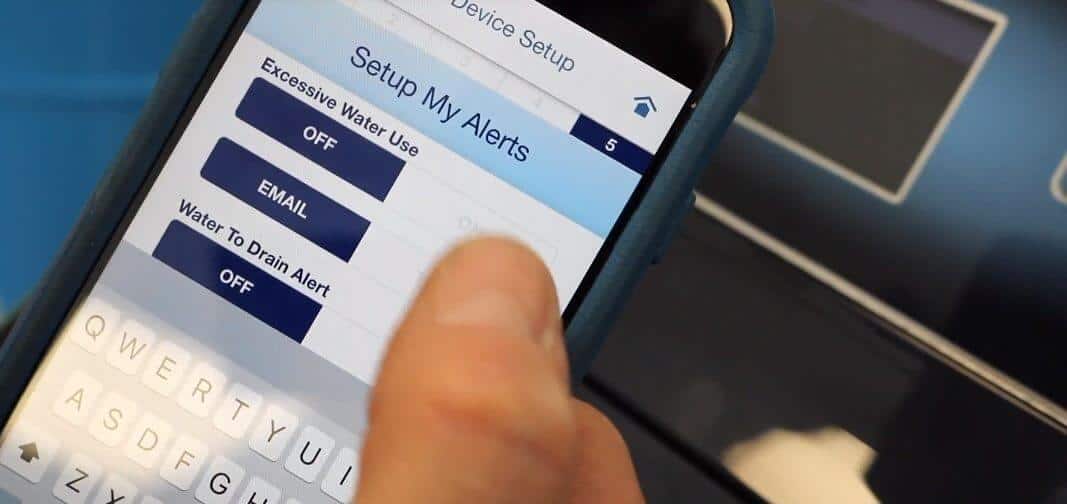 Excessive Water Use – I always turn that on. What Excessive Water Use is going to say is the unit counts gallons, what will happen is if a toilet is running or you're using too much water in some area of the house, the unit will actually let you know and then at that point you can try to figure out what the situation is.
Water to Drain Alert – I always turn that on.
Error Messages is totally up to you. We can turn it on.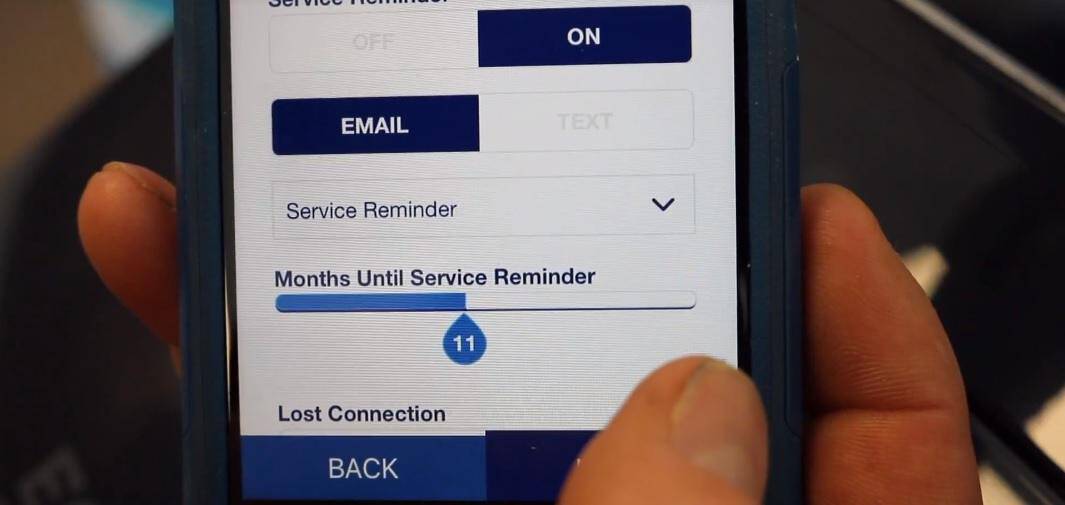 So the next one's going to be your Service Reminder. I always recommend that customers turn Service Reminder on. Next, you're going to notice that you can select either RO Service, Service Reminder, or Filter Service. I say for a softener just leave it on Service Reminder.
Now you're good to go.
Typically, we recommend yearly services on these units, so I usually tell a customer to leave it at a reminder for 11 or 12 months. That way if we don't contact you, at least you guys get a little reminder and say "Hey, it's about time for us to come out and check your unit". At that point, we'll come out and we'll test your water and we'll see how well your softener is working.
Next is Lost Connection, which you can turn it on or off – it's up to you. Lost Connection just basically says if all of a sudden your unit is unplugged or there is a Wi-Fi issue in your house, it alerts you that they no longer have access to your softener. You can send that in a text or email. Then, you're going to hit the "Next" button.
At this point, your device has been added to the Wi-Fi. If you have any further questions or issues, just give us a call at Carroll Water. Thank you.